How to Choose Background Music for My Video?
December 19, 2018
Music plays an important role in your corporate video and should not be overlooked. There is such a strong connection between music and movies that you can't hear "I Don't Wanna Miss a Thing" (Aerosmith) without thinking of Armageddon or "Eye of the Tiger" (Survivor) without thinking of Rocky III! The music you choose for your film is equally as crucial as the content. Having a good music track to your video sets the mood and it can be an important part of the story. Adding the right track can provide subtle, effective background music, or elevate the emotional message of your video.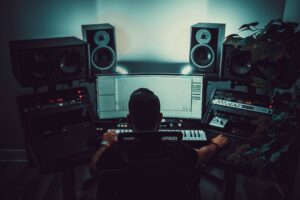 While the right music track can make a video perfect, the wrong song can completely ruin it. So how do you go about choosing the right background music for your videos? We've got you covered in this post with our 4-step process for music selection.
Step 1: Define the music early
It's not uncommon to start thinking about this in pre-production, or during the scripting stage. The benefits of planning ahead helps us identify the role of the music and how it fits with the video concept.
When it comes to defining the music track, we must consider the audience and the messaging of the video. This process involves asking questions like: should the music track support or drive the messaging? If the video is trying to convey information, choose a supportive track that won't distract the attention of the viewer. If the video is communicating broad concepts, we can go for a track that evokes more emotion. We'll explore this in detail in the next step.
No one likes production surprises! By planning the music in advance, we can stay within our budget – whether we hire a composer, license music from a library, or use a vocalist. In most cases, client's approval on the music is required so this is where we would accommodate client changes according to the budget.
Step 2: Choose an appropriate genre
The most important aspect of choosing music for your video is how you want your audience to feel after watching it. Music is subjective but the genre should be decided based on the nature of your business and the intended audience (determined during step 1).
Is your new product launch something they should be excited about?
Do you want to give them a warm and fuzzy feeling after reading your testimonials?
Or it's candid video about the company culture that makes them laugh out loud?
There are many genres of music that could fit into your video but depending on your audience and your objectives, you will need to go towards a genre or another.
Step 3: Music should not compete with Voiceovers
Good background music is the music that you didn't even notice. So if someone's talking on screen, for example an interview, don't let your music track overpower the voice.
Caleb, our Creative Technologist and Lead Editor suggests to watch out for songs that have strong sonic elements as this often competes with the human voice. If you find that you have to lower your music to hear the voiceover, so much so that it becomes inaudible, then you may have a wrong track.
When dealing with a lot of voiceovers, it's wise to avoid choosing tracks with complex melodies that use the same frequency spectrum (notes & tones) as the human voice.
Step 4: Don't Be Tied to the Track Length
Sometimes, the tempo of your chosen track (verse, chorus, bridge) may not always flow with your edit. So, editors often chop up the tracks to work best with the video. Utilise the music in your editing pace. Cutting to the music to drive energy and pace while cutting against can create tension. Make thoughtful choices about how you use music to work with your video edit.
Choosing a track with consistent beat allows you to work with stops and starts to highlight important points. We can loop parts of the track, cue in a chorus at just the right time by cutting tracks to tailor the audio to your visuals.
Another great way to emphasise your video message using music is to fade out the track for a specific few frames and then re-introduce the music again right after. Be careful not to overuse this technique in the same video, as it will not be as effective.
Final Tip for Choosing Background Music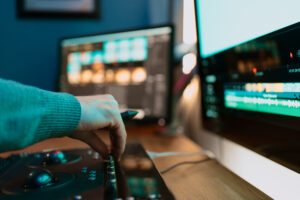 Keep in mind that when choosing music, always listen to the track from start to end. By doing so, you will discover how to place it in the video.
Music is a key part of a video and it enhances your video content to create stronger connections with your audience. With our 4 step process, you're one step closer to making the right decisions when choosing background music for a video.
Whether it's a documentary, corporate video, promotional or customer testimonial video, music has the power to complete your viewer's experience. The time and effort you put into a great track will be worth it when you see the music and video work together perfectly!
Leading brands and government agencies across Asia choose us for their video production services. Looking for a more detailed quote, or just want to discuss great video ideas? Picture Perfect Productions is a full-service production house. Drop us a line here and we'd love to help you out!