Do I Need a Storyboard for My Video?
January 18, 2022
The biggest question a lot of clients have is, do I need a storyboard?
The real answer is – it depends.
There is a time and place for everything; this includes storyboarding. Detailed frame by frame storyboards are great in theory, but are they really necessary for your video project?
As production house that works with small to large scale projects, we like to think of storyboarding as the process of creating structure. There's no one absolute way to drafting a storyboard. Every production is different, creating a storyboard should be as simple or as detailed as you want.
In this blog post, we will delve into when it is essential for a project to have a storyboard.
What is a Storyboard?
A storyboard is a series of visuals (can be hand drawn or digitally created) that represent the individual shots planned for a video, film, or commercial.
Typically, a storyboard is done by the Director or a Storyboard Artist. The sequence of events in a script is carefully mapped out in a series of in frames of action. The main goal is to breakdown the script and identify key scenes and plan it out visually.
Storyboarding can help you plan your video from start to finish: What type of shot (medium, extreme close-up etc.)? How will the story flow? Which scene is going to contain special effects?
When do you need a storyboard?
A common misconception is that you need to storyboard every video you make. But that's not always the case. In most cases, a storyboard is created to match or go alongside a script. It complements the scriptwriters work and translates the script into camera pictures.
Narrative and conceptual films generally require storyboards demonstrate an overview of interaction that builds the story – physical environment, actions of people and events that unfold over time. Here is a digital drawn storyboard for Nespresso's narrative story when we produced a 360 video for the launch of their new store.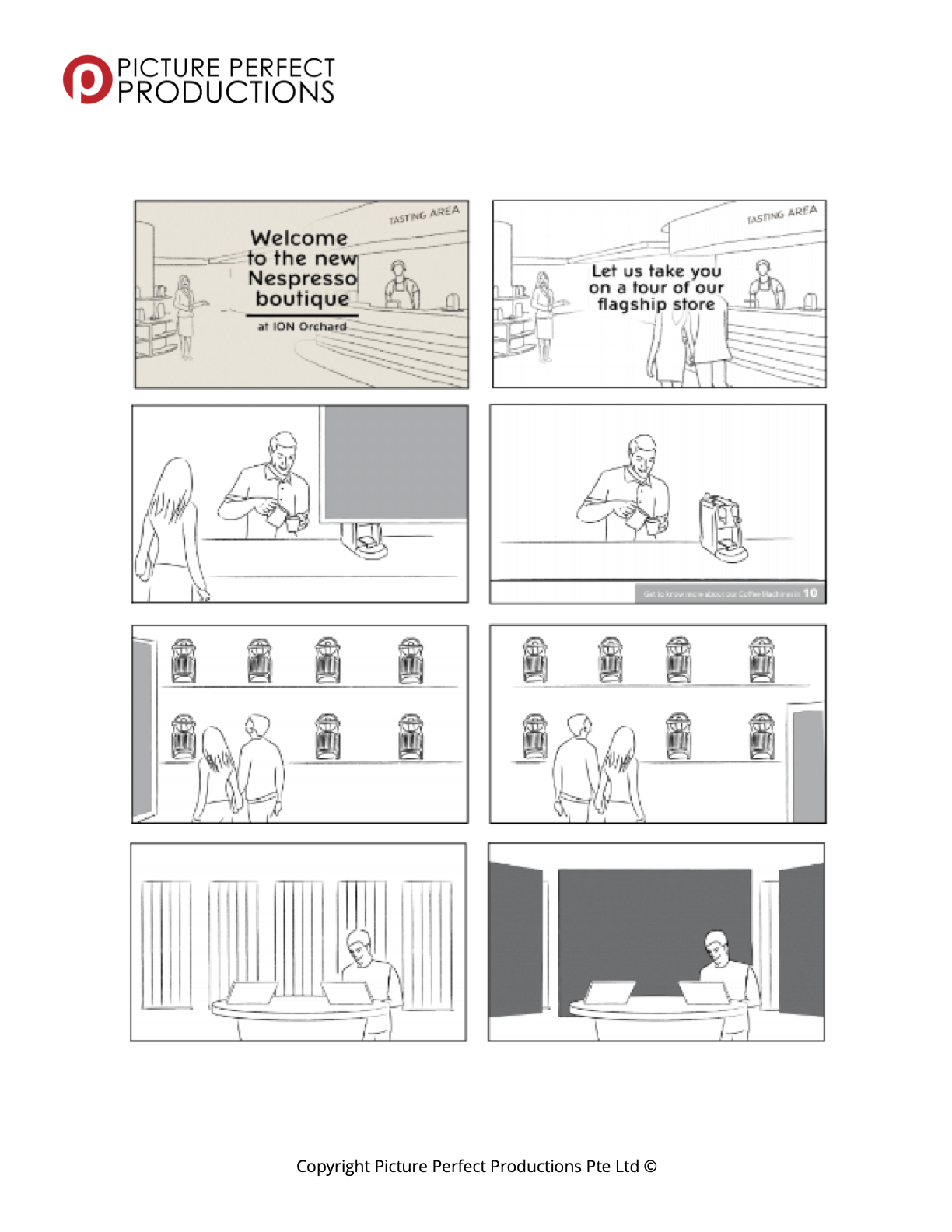 When it comes to animation, the storyboard has a different role. Even though animation also originates from a script, it is developed using storyboards. Animation projects extremely visual driven that it make sense to start with a storyboard as it simply makes it easier to convey the idea to the team and the client. Pixar released short videos on how Toy Story came to life through their hand-drawn storyboards. Check it out:
However, unlike the above, it is not standard industry practice to storyboard for corporate videos (e.g. interviews, social media, company profile, recruitment training etc.) with scenes that take place on a static set with talking heads. With these projects, we place all the focus on good direction and communication to tell the story that engages with the audience.
What is the alternative to a storyboard?
You might be surprised that some Hollywood directors do not use storyboard. Clint Eastwood is known to only use storyboards for scenes involving special effects. Christopher Nolan and Quentin Tarantino are not big fans of storyboarding too, which goes to show that you don't necessarily need a storyboard to create award winning films.
Audio/Visual Script
Not having a storyboard for your video does not mean you don't have a plan. Using an audio/visual (AV) script format is a good way to communicate visual ideas. In an AV script, we separate the video content into two (or more) elements: one audio, and one visual that works hand in hand together. Using stock images as reference, the visuals enhances the spoken dialogue.
This is an AV script example we created for InstaREM's commercial video. It is properly segmented and broken down into parts – audio, visual, notes and visual references. The AV script was extremely useful for the client as it gave them clear idea of the pace and plan for each scene.
Mood Boards
Another option would be creating mood boards. Mood boards are handy for putting together existing images to represent the world that you seek to create with your project. They are a useful reference throughout pre-production phase and even during filming. Images here give references to the look of each location, set styling elements, lighting, camera angles are all key elements of a mood board.
This example is a mood board for Singapore Tourism Board, created using real location images, colour palettes, angles and framing to visualise the mood of the production and get that across clearly to the clients.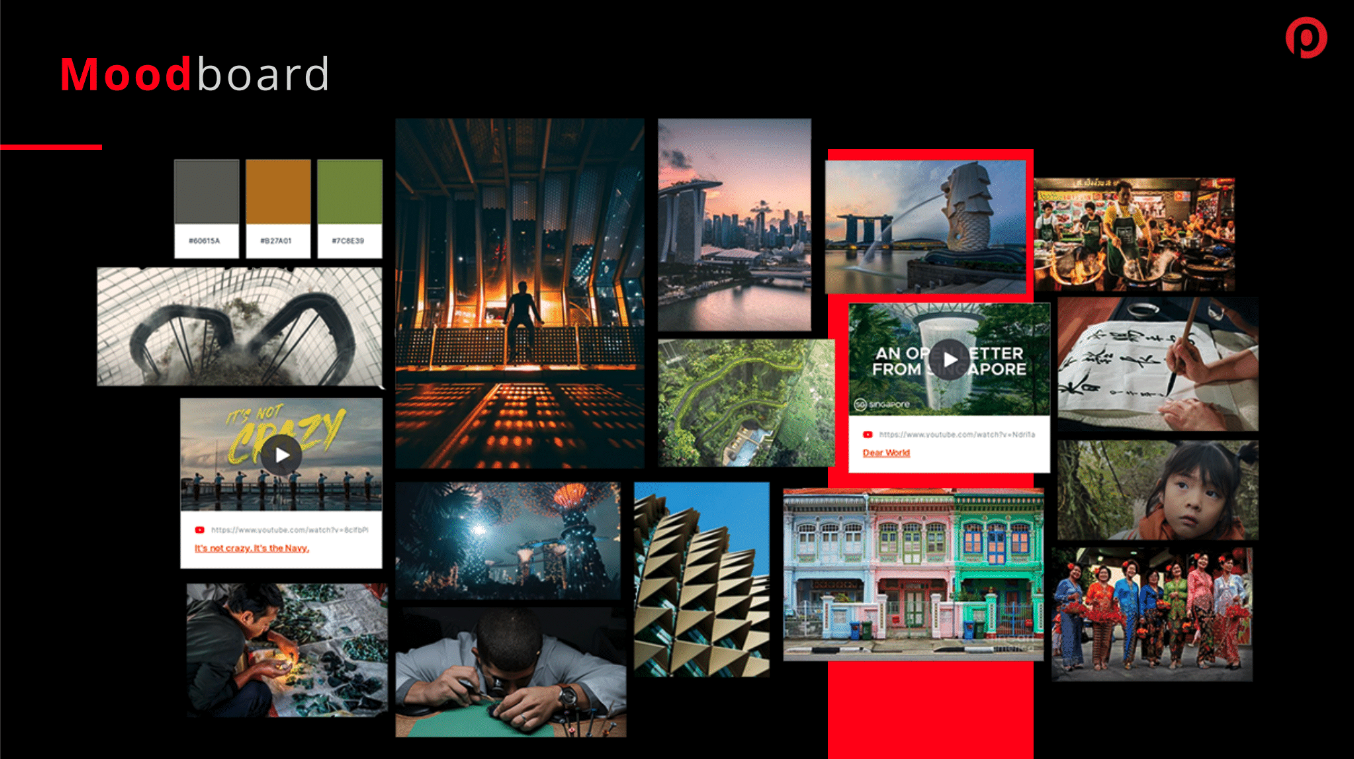 Final remark: Do I need a storyboard for my video?
Storyboards are flexible and scalable.
You can provide as much or as little information as you need to make sense of a particular scene or shot. Remember that storyboards are only a guide. There may be challenges during production and where a scene or a shot may stray from the storyboard. Don't let a storyboard restrain you and leave room for inspiration.
As mentioned above, not all videos need a storyboard and there are many ways to plan and present a story. To get a good value from storyboarding is to understand when a storyboard is essential to your project.
Leading brands and government agencies across Asia choose us for their video production services. Looking for a more detailed quote, or just want to discuss great video ideas? Picture Perfect Productions is a full-service production house. Drop us a line here and we'd love to help you out!