31
Jul
360 video marketing has not been capitalised as much in Asia, particularly Southeast Asia, as marketers tend to stick to the traditional marketing route due to them not knowing how to go about it or what to look out for, or simply, having had a bad experience with 360 video service providers.
Why 360 Video Marketing?
This is a wasted opportunity. Having a 360 video vs a standard 2D video as part of your marketing campaign, whether it be for your retail outlet(s), or product or services, provides an immersive experience for your customers experiencing and interacting with your brand.
Secondly, it allows you to embed and include 2D elements in your 360 video, like what we've done for Nespresso.
The key thing is to look for a trusted and experienced service provider who knows what they are doing when it comes to producing a quality 360 video. It's not about sticking a 360 video camera in the scene and hoping for the best. There are many intricacies involved in shooting a quality 360 video and a lot that goes into the planning stages, including working closely with the clients to get the best output, tight communication with the camera crew and post. Here, we share what we've done recently for Nespresso.
Producing the 360 Video for Nespresso
Nespresso's agency Publicis commissioned us to do the 360 shoot of their flagship store in ION Orchard.
For this project, we chose our specially built 2-camera 360 rig. The more cameras your rig has, the better your resolution will be, however, when working in low light, and in a small enclosed area, more cameras usually mean more potential stitching errors, and less mobility and flexibility for your actors. It's important to choose your camera rig based on what you plan to film, where you plan to film, and of course, how quick your turnaround needs to be.
As 360° video is very heavily reliant on post-production, it is key to have the editor on site to collaborate on each shot with the cinematographer.
Not all 360° cameras have an auto-stitch live preview like some domestic cameras, it's important that you are fully aware of everything that's going on around your shot.
Always keep in mind where your stitchlines are, people and objects that are scripted to pass through them, as well as making sure to keep the minimum distance.
Due to the short turnaround time for this project, we began creating much of the animation, motion graphics and other 2D elements a few days before the shoot took place. That left us with more time to spend in the compositing phase. This was all completed using Adobe After Effects and Mettle Skybox.
Because RAW 360° video files are very large, many of the treatments on it can take several times longer than with a normal video, so we had to be sure to always organise the workflow to ensure exports are done on approved content.
It was a great collaboration between Publicis, Nespresso and Picture Perfect Productions. We're glad that the client were open to trying out something unique, and that allowed us to produce engaging and interesting content for them.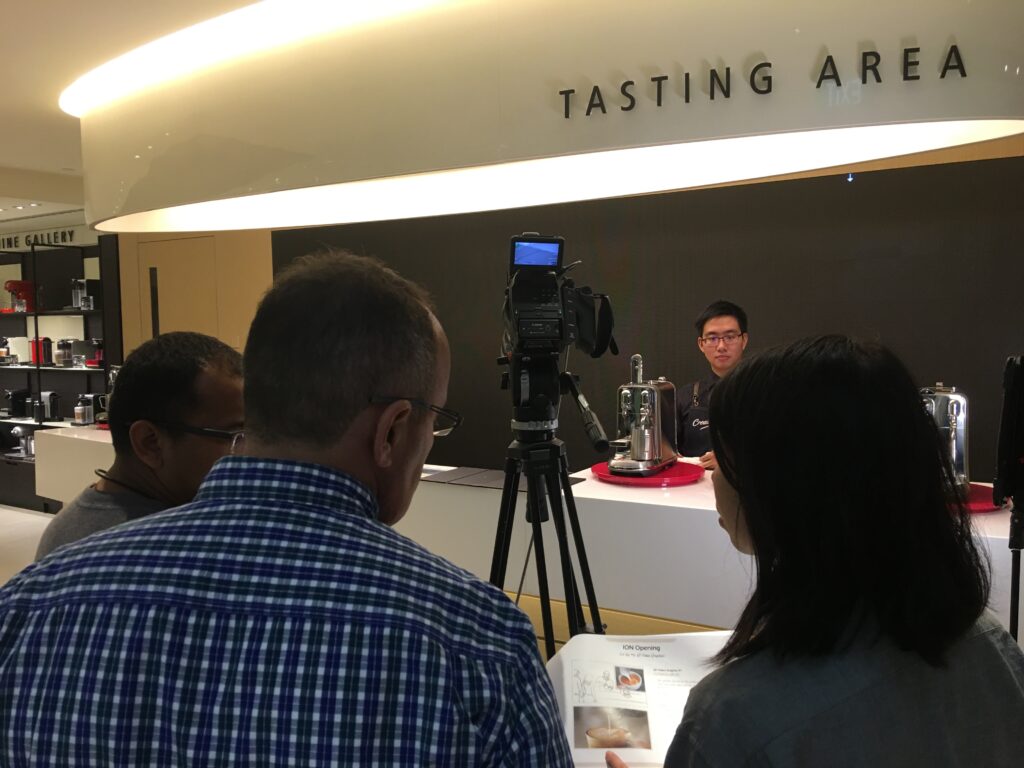 In producing a 360 video, there is an option for clients to have more interactive elements with the products at the store upon request. We can advise you on how to achieve the best results and ROI for any 360 content, this can be combined with 2D video, graphics and even interactive elements in the experience.
Check out Nespresso's 360 video here: